The Sixties . . . (Page 3)
Deciding to pursue the concept of re-working well known material into light, infectious rhythms and arrangements, the creative team released "Nino and April Sing the Great Songs," a remarkably varied LP which included back-to-back hit singles "Whispering" (#11 Pop, #4 Adult Contemporary) and "Stardust" (#32 Pop, #13 A/C). Also included was an upbeat version of the Cole Porter masterpiece, "Begin The Beguine." Although not released as a single, "Beguine" was performed often on "American Bandstand" and "The Lloyd Thaxton Show," and showcased a tongue-in-cheek, whimsical humor that were characteristic of the Tempo-Stevens trademark sound. This deadpan reading forecasted the hilarious mechanical caricatures perfected by the Flying Lizards almost two decades later.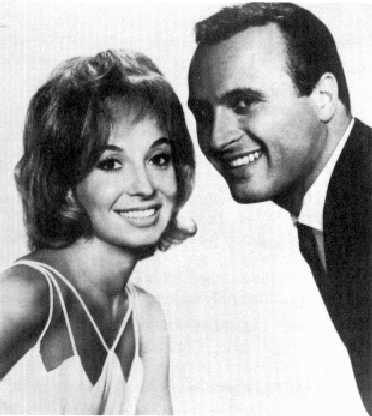 The Mann-Weil-Spector penned tune, 'I Love How You Love Me", was completely reinvented with an arrangement for electric guitar, thrashing drums, and bagpipes. (YES way! A pop music first!)
(To read further about "I Love How You Love Me," and to hear the recording, check out this webpage. Remember to click the Back button on your browser to return to this page.)
http://www.spinner.com/2007/03/08/iflts-i-love-how-you-love-me-nino-tempo-and-april-stevens/
Nino and April's recording success led to a series of television appearances, (Shindig, The Joey Bishop Show, The Smothers Brothers Comedy Hour), one-niters, college concerts (with the Righteous Brothers), and club dates from Las Vegas and Reno/Tahoe to Europe and Australia.
But of course, 1964 brought sweeping changes to the face of pop music, worldwide. The waning chart success of our heroes may be due in part to radio programmers mistakenly identifying them with less inventive, homogenized acts of the time. That The Invasion squeezed April & Nino off the charts is a terrible irony. There are more similarities than differences when you compare the first Atco recordings to those of The Beatles and other Britpop from the same period. Listen to the bluesy rock structure of the arrangements, the tight, close harmonies with high-end vocal stretches. Nino's hot, falsetto wailing in St. Louis Blues stands proudly beside Paul's homages to Little Richard. And, given the Beatles' admitted affection for the Spector sessions, one of whose prime session players was our beloved Nino, the only wonder is that April & Nino were not carried along as creative contemporaries in the Invasion furor. The sound is cut (and, this is important--simultaneously) from the very same cloth.
Click on the "Play Arrow" below to see & hear Nino & April perform "Swing Me." (1965)
AFTER THE VIDEO IS FINISHED PLAYING, YOU SHOULD BE GIVEN OPTIONS TO PLAY SEVERAL OTHER NINO AND APRIL VIDEOS THAT HAVE BEEN POSTED ON YOUTUBE.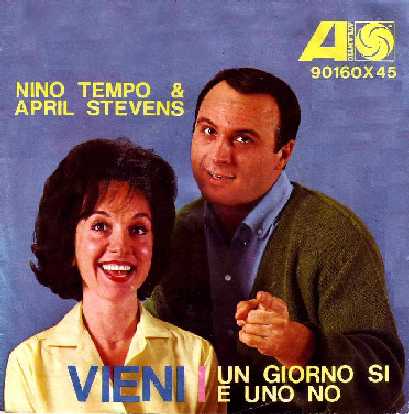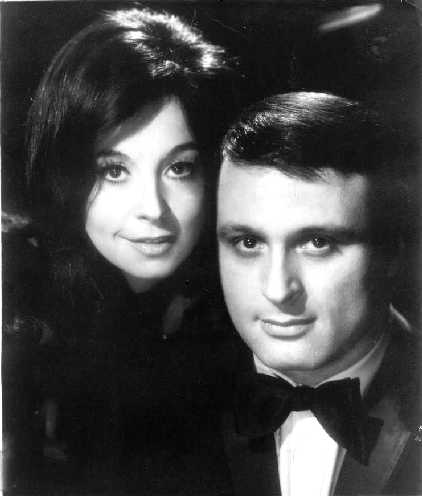 Click here for more on Nino and April's careers through the 60's